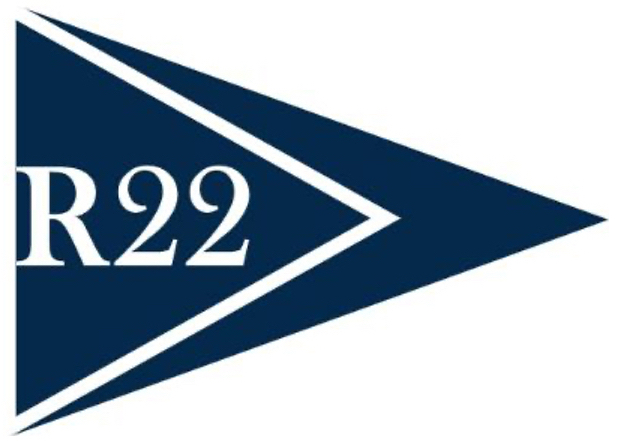 Owners, former owners and anyone with an interest in the Rhodes 22 who is a subscriber to the Rhodes 22 Owners' Group Website is eligible to purchase the official Rhodes 22 Burgee.
While the mainsail of most modern sailing vessels displays a logo or symbol of the boat's manufacturer identifying the vessel to other sailors and skippers, that mainsail symbol does not say to the sailing public that the owner is part of an active consortium of owners of the same type of vessel. When a skipper hoists a flag or burgee that represents the Rhodes 22, he is saying he is part of an organized group of owners and supporters of an iconic sailboat. It also says if you ever become fortunate enough to own a Rhodes 22, you will have a network of owners who can provide knowledge and support to you.
The cost of the Rhodes 22 burgee is $29.95 each
Specifications: The burgee will be made from high quality 400 denier nylon pack cloth, UV treated on both sides; and stitched with extra strong UV resistant thread also treated for mildew resistance. The burgee pattern is sewn on both sides concurrently with the same stitch, called appliqué and provides the best marine burgee. The two brass star grommets along the polypropylene heading are special design for burgee applications. Burgees are designed to withstand a marine environment and are by far the highest quality burgees available.
Pricing: $29.95 including free shipping only to United States. Add $7.00 for Canada. No Europe delivery.
Delivery will in 3-4 weeks via US Mail.
Until the burgeeshoppe.com website can get us incorporated, we need to order using email. To open your email app with an order form, , and fill in the required information.
Expect a return call from Cindy Halling : (562) 252-6005.
NOTE: Your card statement will show the billing as OPB Entertainment.
---
In case the 'click here' button didn't work, do the following:
Compose an email:
Please send ____ 15" X 18" RHODES 22 Burgee(s) at $29.95 to:

NAME, SHIPPING ADDRESS

Your phone number (for Cindy to call for your payment information)
Send the above to herb@halling.com or a secondary email cindy.halling1@gmail.com.
PLEASE cc: herroberst@hughes.net
---
Joe likes to fly his burgee above the top of his mast on a 'pigstick'. He's provided instructions below, in case you'd like to do the same. (Click on the thumbnails for larger images.)