Rhodes 22 Documentation Library
<![if !supportEmptyParas]> <![endif]>
<![if !supportEmptyParas]> <![endif]>
<![if !vml]>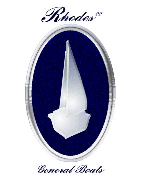 <![endif]>
Welcome! As many of you know, older boats sometimes don't come with a full complement of documentation. Carelessness, loss, water damage, wild goats, etc. can leave a boat without that one critical piece of information that is sometimes necessary to maintain or repair equipment. In an attempt to make important information available to our community, we've decided to create an online resource library for Rhodes 22 owners.
Stan & Rose Spitzer of General boats (www.rhodes22.com) have graciously given us permission to include "official" Rhodes 22 documents. We have been asked to prepend the following statement to the beginning of each "official" document: "If, after reading this essay on the Rhodes 22, you have further questions, ask the party from whom you bought your boat. If that fails, ask the Rhodies List (www.rhodes22.org).
<![if !supportEmptyParas]> <![endif]>
Disclaimer: Be aware that General Boats, Rhodes22.Org, and the individuals who have made these documents available to you take no responsibility whatsoever for the contents of these documents nor the application of the information within them. They are provided here merely as a service to the Rhodes 22 community. The Rhodes 22 is a semi-custom boat, and has gone through many changes and improvements over the 30+ years General Boats has been building it. These documents, like the Rhodes 22 itself, have also evolved over time and may or may not be appropriate for use with your particular boat. Use them at your own risk. Remember - "Your mileage may vary".  
<![if !supportEmptyParas]> <![endif]>
You can contribute: If you have boat or equipment documentation you think would be of value to other Rhodes 22 owners and it's already in electronic format, email it to mark@kaynor.org.  If you have hard copy, drop me an email to let me know to expect it and mail a copy (no originals, please - I simply don't have the time to be responsible for returning either copies or originals) to:
<![if !supportEmptyParas]> <![endif]>
Mark Kaynor
803 Allendale Ct.
Blacksburg, VA  24060
Contributors please note: At Stan & Rose's request, any documentation written by General Boats must not be edited or altered in any way and must be published in its entirety. Also, please include a date of publication (or as close as you can get to one).
Adobe Acrobat: Most of these documents are in Adobe Acrobat format - you'll need to download the free Adobe Acrobat Reader to view or print them. You can save them to your local hard drive for future reference using either your browser or the Adobe Acrobat "Save" function. For example, if you use Internet Explorer, you can right-click on the link and select "Save Target As" from the popup menu.
<![if !vml]>

<![endif]>
Download times: Some of these files are pretty big. You should be aware that they can take a while to download - for example; a 2.5 MB document will take around 10 minutes to download at 56 Kbps. The estimated time listed for each entry is just that - an estimate. Use it as a guideline, not as gospel.
The Library
<![if !supportEmptyParas]> <![endif]>